← Renovations for Westinghouse Arts Academy Charter School in Design
Franklin Regional School District Approves Elementary Campus Design →
Steubenville Library Looking Ahead to Improvements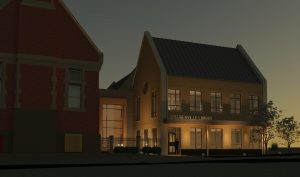 With the design being finalized, excitement is building for the improvements that result from the expansion of the historic Public Library of Steubenville and Jefferson County.
The addition and renovation project will create a new wing for additional library space, a community room, and the relocation of the children's library.  The addition will  have a new main entrance that offers accessibility for the new spaces as well as the existing, 115-year-old Carnegie library building.
← Renovations for Westinghouse Arts Academy Charter School in Design
Franklin Regional School District Approves Elementary Campus Design →
Comments are closed.