← Older posts
When Sloan Elementary School teacher Janine Mickel attended a meeting with VEBH, the architects spearheading the design of the Sloan "elementary campus" project, she was told they "planned to bring the outdoors into the classroom."
Standing in a freshly renovated wing of the building that is complete and occupied by teachers and students, it's clear that goal has been achieved: warm earth tones on one section of floor tile are interrupted by a splash of tiles colored bright blue and green. Skylights bring natural light into classrooms outfitted with new carpet and a fresh coat of sky-blue paint on one wall.
The nature theme was inspired by the school's surroundings, bordered by woodlands as well as Haymaker's Run, and the design will be consistent across the school's classrooms.
"This theme will also extend to the (new) intermediate school, so kids will be able to bridge easily from one building to the other," district communication director Cara Zanella said.
Mickel said her third-graders are "very excited" to be in the new classroom. She has some new toys of her own to explore, including a Promethean interactive screen that eliminates many of the previous smart-board-related challenges teachers faced.
"It's really nice because it's like a big tablet," Mickel said. "I don't need a laptop to be connected to use it."
Mickel is also able to split the board's screen so multiple students can work on it simultaneously.
"I love it," she said.
Read the rest of the TribLive article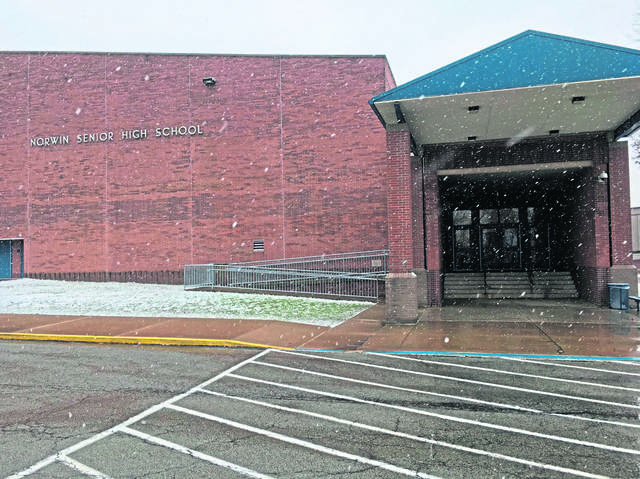 The master plan is to include how Norwin can save on energy use and outline the options for the pool and sports venues. VEBH is directed to study improvements to school safety, the need to replace school desks and any needed repairs to the high school roof. VEBH is to prepare conceptual planning for any reconstruction, repair or new construction.
Read more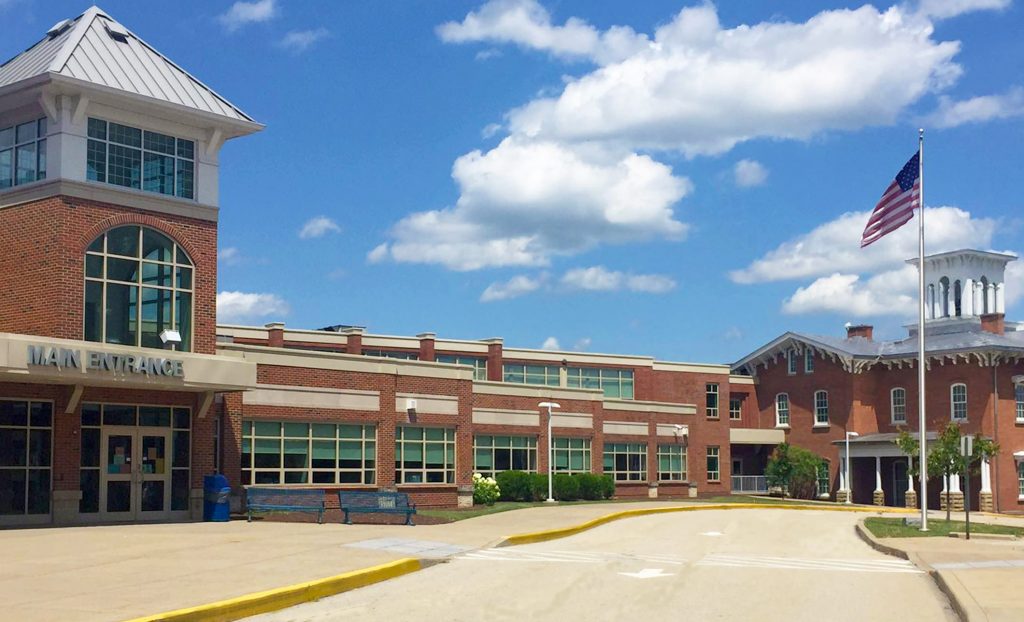 Architect Dan Engen, president of VEBH Architects, explains that the "vision for the school came from the district's strong educational philosophy of developing a compartmentalized building program focused on the student/teacher relationship and advancing team relationships." In another sense, the configuration subtly suggests farmhouses, apropos given that the school was built on old farmland. And on another tack, the efficiency of the building systems continues to signal the environmental awareness and programs of the school, for which it received a 2019 Green Ribbon award.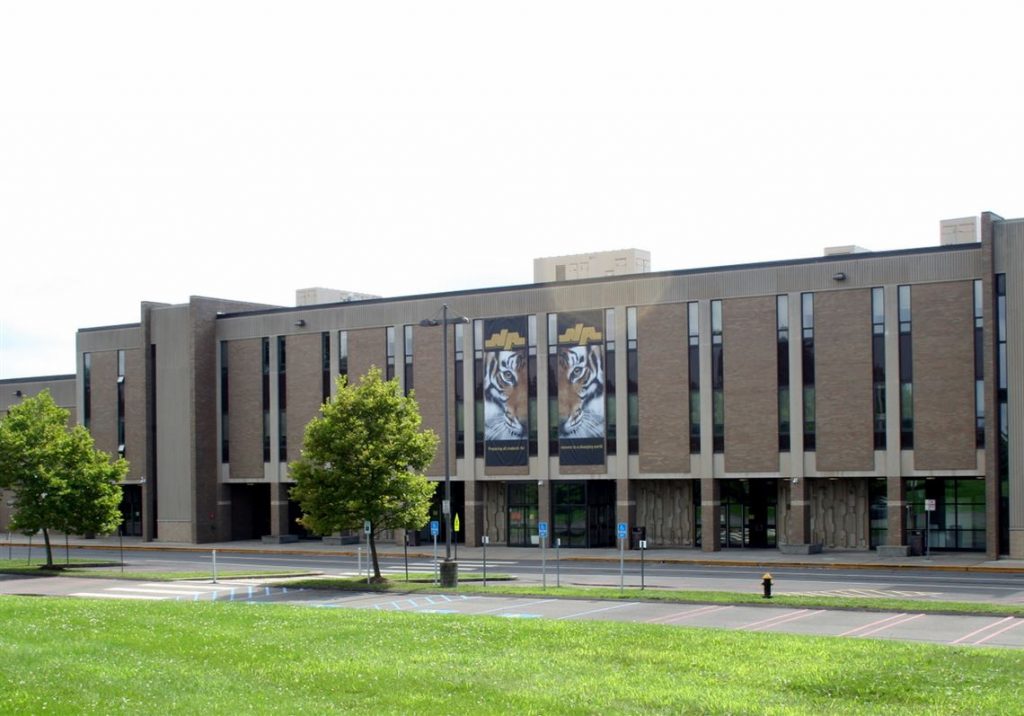 The largest windows at North Allegheny Senior High School will be sacrificed for student safety.
The school board Aug. 21 accepted a proposal from VEBH Architects to provide design and construction oversight services for modifications to the main entrance at the senior high, and to move the main office to the entrance area.
"It is going to be a very nice upgrade, but it is also going to be a safe upgrade: more stone, less glass," said board President Rick McClure. "It is tied to 'how can we make the front of that building safer?'"

VEBH Architects is pleased to announce that Christopher Brown, AIA, LEED AP, BD+C has been named a Senior Associate in the firm and Elizabeth Cronin, LEED AP has been named an Associate in the firm.
Since joining VEBH, Chris Brown has taken on important leadership roles for major educational planning and design projects. He has 23 years of experience. Chris is passionate about sustainable design and has successfully worked to obtain certification of dozens of sustainable projects. Chris earned a Masters in Architecture degree from the University of Texas at Austin.
Elizabeth Cronin has been with VEBH for nearly ten years and has been a key project manager within our healthcare design studio. She has served in a leadership role for projects starting in planning and progressing through design and construction. She has a masters of architecture degree from Kent State University.
The Franklin Regional School Board approved the construction contracts for the project that will consolidate the district's elementary education program onto a comprehensive campus.  The project includes the renovation and additions to Sloan Elementary School for K-2 instruction and the construction of a new building on the Sloan property for grades 3 to 5.  Each building will provide state-of-the-art, 21st century learning environments to support the modern learning programs in the district.
Steubenville showed its pride as it cut the ribbon and began showing off the newly expanded library.  The expansion and renovation project includes a 10,000 square foot, two story addition as well as updates to the original library.  The library's main entrance is shifted to the addition, which includes and elevator.
The Public Library of Steubenville and Jefferson County was completed in 1902 and was one of the first "Carnegie" libraries, funded through a grant from Andrew Carnegie.
The project was initiated to achieve compliance with the Americans with Disabilities Act and create an accessible entrance.  It also included other goals, including a new children's library, reading rooms, a community room, and space for computer stations.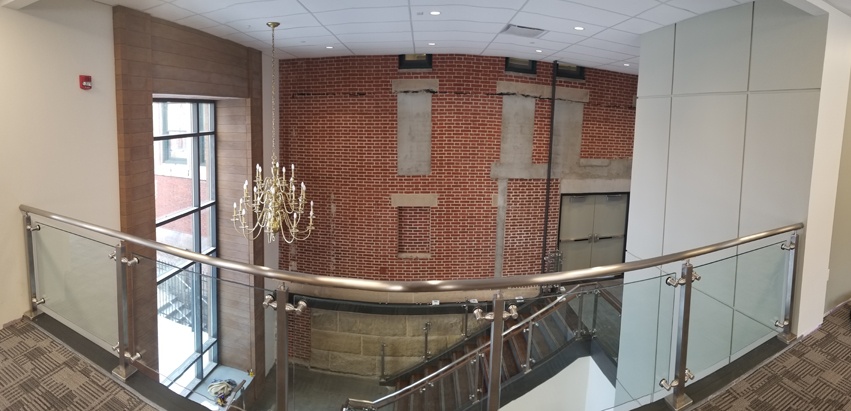 The expansion and renovation of the Public Library of Steubenville and Jefferson County is nearing completion.  A Grand Re-Opening has been scheduled for April 30.
A final feasibility study on a Hampton High School renovation was the focus of a special public school board meeting Jan. 28, bringing the potential project a few steps closer to reality.
The study was presented by VEBH Architects, the firm that provided a first conceptual renovation design to the school board in November.
Cassie Renninger, a VEBH registered architect, noted the designs are subject to modification.
The feasibility study to define improvements to the learning spaces at Hampton High School is nearing completion.  The renovations VEBH Architects have proposed would support a changing curriculum and provide a deeper learning experience for students.
← Older posts