← Freeport Area Votes for New Stadium
St. Clair Hospital Features Renovated Family Birth Center →
Waynesburg University Stewart Hall Renewal Advances Ahead of Schedule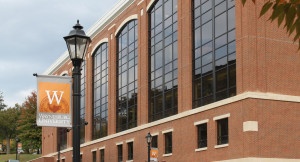 The multi-phase renovation and expansion of Waynesburg University's Stewart Hall, one of the campus' primary science facilities, continues to advance through the building interior spaces.  Construction will actually advance ahead of the planned schedule to begin the fourth phase. The replacement of the building's facade was completed for the start of the fall 2014 term. 
← Freeport Area Votes for New Stadium
St. Clair Hospital Features Renovated Family Birth Center →
Comments are closed.