← Pine-Richland High School Project Recognized
Washington Health System Opens Children's Express Care →
Breaking Ground Highlights Waynesburg University Successes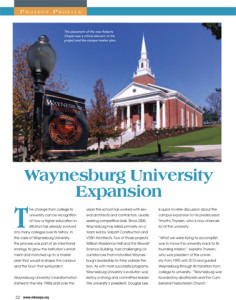 Breaking Ground, a publication of the Master Builders' Association of Western Pennsylvania, features the work of VEBH and Volpatt Construction on the new and renovated buildings that have a part of Waynesburg University's growth.
The campus was recently listed as one of the top 25 "Most Beautiful Christian College & University Campuses in the World."
VEBH has worked with Waynesburg University for more than 25 years, designing ten new buildings for the campus along with numerous renovation projects.  Our most recent design is for the multi-phase renovation of Stewart Hall, the primary science facility on campus.
Click Here to view the Breaking Ground article
← Pine-Richland High School Project Recognized
Washington Health System Opens Children's Express Care →
Comments are closed.