← Stephen A. Kurpiewski, AIA, Receives Board Certificate from American College of Healthcare Architects
Breaking Ground Highlights Waynesburg University Successes →
Pine-Richland High School Project Recognized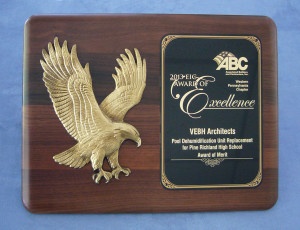 The VEBH project to replace the pool dehumidification unit at Pine-Richland High School was presented with a 2013 Excellence in Construction Award of Excellence by the Associated Builders and Contractors, Western Pennsylvania Chapter. The project was recognized for the excellent planning by VEBH and Tower Engineering and execution by the project's general contractor Weider Services.
← Stephen A. Kurpiewski, AIA, Receives Board Certificate from American College of Healthcare Architects
Breaking Ground Highlights Waynesburg University Successes →
Comments are closed.