← Older posts
Newer posts →

Our Facebook page contains a brief video preview of the new kindergarten classrooms.  Click here, then Like and Share!
Mount de Chantal's bell is now in its permanent home outside the Wheeling Jesuit University Conservatory of Music.    A dedication ceremony was held in June to mark the completion of the installation.  The Conservatory, designed by VEBH, integrates many artifacts from Mount de Chantal, including the front door, glass panels and two ornate chandeliers.  The interior renovations were completed in 2013.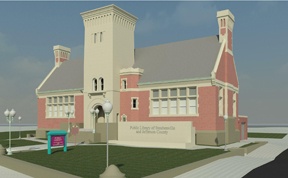 The City of Steubenville's Historic Landmarks Commission gave its approval on the window replacement project for the historic Public Library of Steubenville and Jefferson County.  The 113-year-old windows will be replaced with energy efficient double-pane windows later this year.
The Library was originally opened in 1902 and was the third 'Carnegie' library constructed in Ohio.  The building was added to the National Register of Historic Places in 1992.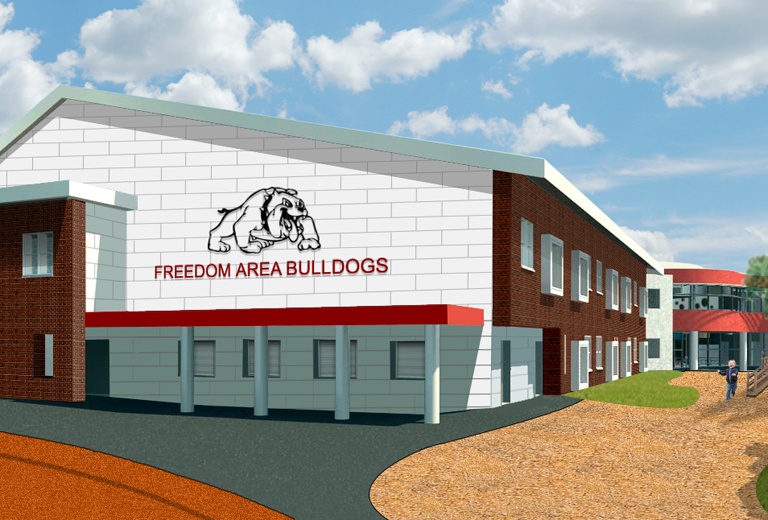 As the construction of the new Freedom Area Elementary School moves forward, the District begins to look ahead to exciting changes and significant savings.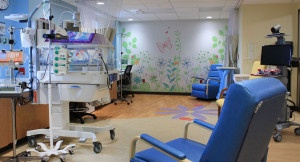 WVU Healthcare Berkeley Medical Center has produced a video for their new Neo-Natal Intensive Care Unit (NICU).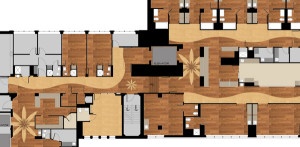 In their latest community newsletter, House Call, St. Clair Hospital features its newly renovated Family Birth Center.  The design for the renovation creates a family-friendly environment with colorful finishes and hotel-like amenities.  The Center is a warm, welcoming environment that masks the technology and efficient workflows necessary for the delivery of outstanding care.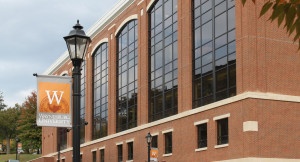 The multi-phase renovation and expansion of Waynesburg University's Stewart Hall, one of the campus' primary science facilities, continues to advance through the building interior spaces.  Construction will actually advance ahead of the planned schedule to begin the fourth phase. The replacement of the building's facade was completed for the start of the fall 2014 term. 
The Freeport Area School District Board of Directors voted to build a new stadium / athletics complex on the High School / Middle School campus.  VEBH Architects had provided the District with a study of options for moving forward with the project.
VEBH presented options to the Hampton Township School District for improvements to the entrances at Central and Wyland Elementary School buildings.  Read More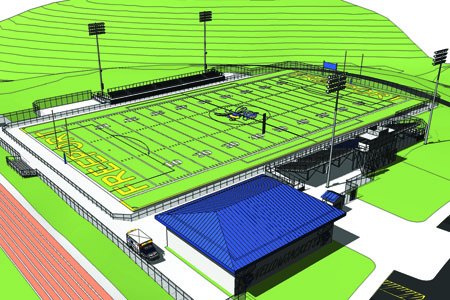 The Freeport Area School District is considering the options developed by VEBH for improvements to the District's stadium and athletic facilities.
← Older posts
Newer posts →