← Older posts
Newer posts →
VEBH Architects has begun a district-wide study to evaluate the facilities in the Franklin Regional School District.  The study will assess the conditions of the District's five school buildings and athletic facilities and recommend improvements to better meet Franklin Regional's educational programs.
The Washington Health System has broken ground for a new outpatient care center in California PA.
The Plum Borough School District has authorized an exploration of funding options for a proposed addition to O'block Junior High School.
The Pine-Richland School District is considering options for improvements to the District's athletic facilities that were presented in a Athletic Facilities Master Plan prepared by VEBH.
The Freeport Area School District will open its new stadium on the High School campus this fall.  Read More
An addition to Vincentian Academy was approved by McCandless Township.  The addition represents the first phase of improvements defined in a Master Plan developed by VEBH for the Academy.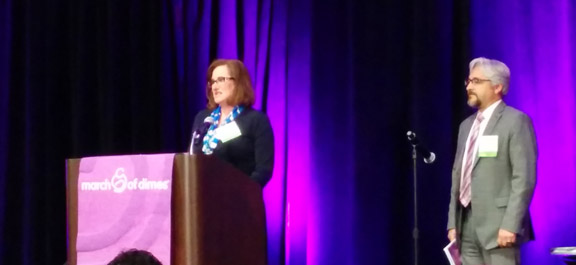 The Children's Home of Pittsburgh & Lemieux Family Center's expansion of its Pediatric Specialty Hospital, designed by VEBH Architects, has been named the Building Project of the Year. The award was presented at the 6th Annual Pittsburgh Transportation, Building & Construction Awards Luncheon hosted by the March of Dimes – Pennsylvania Chapter.
The award, presented to Pamela Schanwald, the Center's CEO, and Daniel Engen, AIA, VEBH Principal, recognizes the special nature of the project, the mission of The Children's Home of Pittsburgh, and the design that creates an outstanding environment for care for pediatric patients and integrates family into the caring process. The project was selected from more than 100 entries and was recognized along with the Tower at PNC Plaza.
The VEBH design team was led by Mr. Engen.  The project was constructed by P.J. Dick.
Click to View the Project and Link to Project Video
The Children's Home of Pittsburgh & Lemieux Family Center's Pediatric Specialty Hospital is the only hospital of its kind in the state of Pennsylvania and a significant asset for our regional healthcare market. The Pediatric Specialty Hospital provides unique, specialized transitional care for children whose ages range from birth to 21. The expansion of the Hospital included the goal of creating family-focused patient rooms like no others… rooms that allowed families to be with their child and a part of the caring process.
The two new nursing units were designed in a vertical addition over an existing one-story wing of the Hospital. Each is designed to create a positive environment for the Hospital's pediatric patients and families. Bright colors, touchable surfaces, fun furniture, playful artwork and interesting ceilings create a fascinating world of positive distractions for the patients, parents, and siblings. The design also produces an uplifting work environment for the staff.
Making an Impact for Families
The overriding goal for the design of the new patient rooms, beyond a state-of-the-art medical infrastructure, was creating spaces that kept families close to their child during a hospital stay. Each new patient room permits parents to be with their child and to be a part of the caring process 24/7. The rooms were designed with three integrated zones; one for the patient, one for staff/clinical activities, and one that provides space with a home-like environment for the family. The overlapping zones promote family involvement which allows the nursing staff to teach parents how to care for their child when they return home.
The family zone includes furniture that can be converted for sleeping and other space that can be personalized with photos and personal effects during the hospital stay, which can be lengthy. Each private room includes a full bathroom with a shower. Outside the patient rooms are common spaces such as a kitchen/lounge and computer station that offer families an opportunity to have a pause in the care process but still be close. The common spaces offer families opportunities to interact, share their experiences, and to support each other.
VEBH Architects is pleased to welcome Cassandra Renninger to our architectural design team.  Ms. Renninger joins VEBH with more than 18 years of planning and design experience that has accumulated working on some of the best learning environments, school buildings and facilities in Western Pennsylvania.
Ms. Renninger's most recent work has included the planning and design for the expansion of the South Fayette High School to include a new 80,000 sf STEAM (Science, Technology, Engineering, Arts and Math) wing which is beginning construction and a new Junior – Senior High School that is under construction in the Forest Hills School District.
Ms. Renninger is an accomplished educational planner, programmer and designer who works with educators to develop 21st Century learning spaces using the principals of student-centered design.  The new STEAM wing that she designed for South Fayette High School coined the "Innovation / Creativity Hub" includes a Fab Lab (Fabrication, Engineering & Manufacturing Lab), Blackbox / TV Studio, Media and Digital Arts classrooms, and collegiate inspired science labs.  Multiple Circular Design 'KIVA' spaces were designed for locations around the High School to support and promote student collaboration, problem solving and design in non-traditional spaces that includes floor to ceiling white boards that wrap the full perimeter.
Completed educational projects in Ms. Renninger's portfolio include South Fayette Intermediate Elementary School, Moon Area High School, Quaker Valley's Osborne and Edgeworth Elementary Schools, and the expansion and renovations to Pine-Richland High School and the new construction of Pine-Richland Eden Hall Upper Elementary School.  These projects were amongst those completed during her 13 years with Eckles Architecture & Engineering.
While at Eckles, Ms. Renninger worked with Daniel Engen, now a principal with VEBH, on several significant projects including Moon Area High School, the Elementary Schools for the Quaker Valley School District, and the acclaimed Eden Hall Upper Elementary School in the Pine-Richland School District.
Ms. Renninger joins VEBH as a senior associate.  She adds significant project management skills and design sensibilities.  She is a skilled designer with a strong working knowledge of Revit Architecture, a program that allows construction projects to be designed and documented three-dimensionally and in a manner that produces important visual tools and construction details.
Ms. Renninger is a LEED GA accredited by the U.S. Green Building Council with an up-to-date understanding of the most current green building practices and principles.  She earned her degree in Architecture from Carnegie Mellon University.
VEBH Architects has a 70 year history designing education, healthcare, and other public building projects, including award-winning educational and healthcare facilities in the area.  VEBH's most recent work includes the new Freedom Area Elementary School.  The firm is currently working with numerous school districts in Southwestern Pennsylvania.
Work with the Plum Borough School District community began with the first in a series of presentations and meetings to find solutions for Regency Park Elementary School.
VEBH Architects will be working with the Plum Borough School District to develop options for Regency Park Elementary School.
← Older posts
Newer posts →