← New Freedom Area Elementary School Takes Shape
WJU dedicates Mount de Chantal bell at Conservatory →
Historic Steubenville Library Window Replacement Approved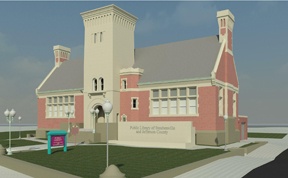 The City of Steubenville's Historic Landmarks Commission gave its approval on the window replacement project for the historic Public Library of Steubenville and Jefferson County.  The 113-year-old windows will be replaced with energy efficient double-pane windows later this year.
The Library was originally opened in 1902 and was the third 'Carnegie' library constructed in Ohio.  The building was added to the National Register of Historic Places in 1992.
← New Freedom Area Elementary School Takes Shape
WJU dedicates Mount de Chantal bell at Conservatory →
Comments are closed.