← Older posts

VEBH Architects is pleased to announce that Christopher Brown, AIA, LEED AP, BD+C has been named a Senior Associate in the firm and Elizabeth Cronin, LEED AP has been named an Associate in the firm.
Since joining VEBH, Chris Brown has taken on important leadership roles for major educational planning and design projects. He has 23 years of experience. Chris is passionate about sustainable design and has successfully worked to obtain certification of dozens of sustainable projects. Chris earned a Masters in Architecture degree from the University of Texas at Austin.
Elizabeth Cronin has been with VEBH for nearly ten years and has been a key project manager within our healthcare design studio. She has served in a leadership role for projects starting in planning and progressing through design and construction. She has a masters of architecture degree from Kent State University.
The Franklin Regional School Board approved the construction contracts for the project that will consolidate the district's elementary education program onto a comprehensive campus.  The project includes the renovation and additions to Sloan Elementary School for K-2 instruction and the construction of a new building on the Sloan property for grades 3 to 5.  Each building will provide state-of-the-art, 21st century learning environments to support the modern learning programs in the district.
Steubenville showed its pride as it cut the ribbon and began showing off the newly expanded library.  The expansion and renovation project includes a 10,000 square foot, two story addition as well as updates to the original library.  The library's main entrance is shifted to the addition, which includes and elevator.
The Public Library of Steubenville and Jefferson County was completed in 1902 and was one of the first "Carnegie" libraries, funded through a grant from Andrew Carnegie.
The project was initiated to achieve compliance with the Americans with Disabilities Act and create an accessible entrance.  It also included other goals, including a new children's library, reading rooms, a community room, and space for computer stations.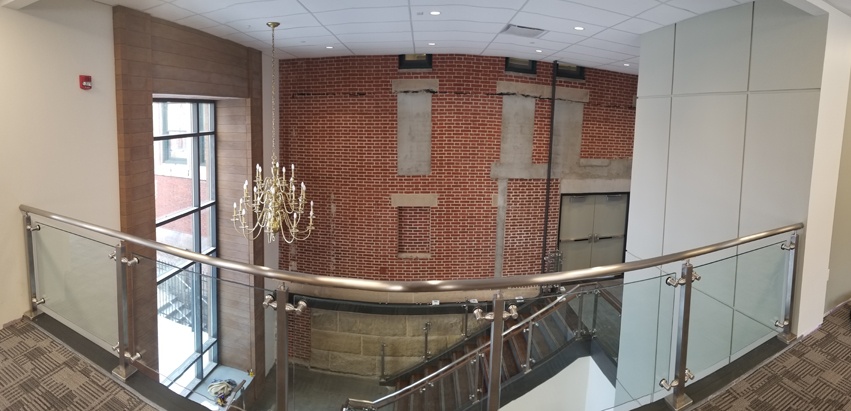 The expansion and renovation of the Public Library of Steubenville and Jefferson County is nearing completion.  A Grand Re-Opening has been scheduled for April 30.
The feasibility study to define improvements to the learning spaces at Hampton High School is nearing completion.  The renovations VEBH Architects have proposed would support a changing curriculum and provide a deeper learning experience for students.
The Hampton Township School Board formally reviewed possible updates to Hampton High School presented by Cassie Renninger, a registered archtiect and princiapl at VEBH Architects.
The academic redesign is intended to provide an intense look on possible ways the current curriculum, school day and building could be modified to provide for a deeper learning experience for its students.
The Washington Health System held a open house for its new outpatient care facility in Canonsburg designed by Tom Durkin of VEBH Architects.
Douglas Lieb has joined VEBH Architects, bringing 26 years of experience in higher education design and project management.  He has a passion for working with Colleges and Universities to create innovative learning and socially dynamic campus environments.   Over the past 18 years, he has successfully completed more than 30 projects throughout the United States with a combined value of more than five hundred million dollars.
His recent work locally has included projects on the campuses of the University of Pittsburgh at Johnstown, Mount Aloysius, Lock Haven University.  He has also designed significant student life facilities on campuses across the nation.
Doug's experience includes the design of interdisciplinary projects encompassing science and technology, the humanities, student life, housing, dining, performing arts, and athletics and campus recreation.
Doug also adds significant experience to our healthcare design team with recently completed project for a variety of UPMC hospitals and facilities.  He has successfully completed more than a dozen projects in the past 6 years encompassing a full spectrum outpatient pediatric care environments, diagnostic imaging and radiology departments for tertiary care hospitals, cardio-thoracic and transplant intensive care settings, multi-acuity patient units and related care settings.
As an experienced team leader, Doug is intimately involved in bringing a project's many stakeholders into the decision making process in a way that builds consensus and realizes innovative and effective outcomes.  As a senior project manager, he will be primarily responsible for promoting detailed execution of the project's design and documentation.  He represents the firm and the design team in all detailed communications with the client, consultants and contractors.  He will also manage VEBH's in-house project team and the project's consultants to work towards successful outcomes.
VEBH Architects is pleased to introduce Jim Jasper as a new firm principal and a key leader for our healthcare design practice.
Jim offers VEBH clients 26 years of healthcare design experience developed through a wide range of medical planning and design projects.  His expertise as a healthcare architect and planner have been honed through his work designing patient-focused hospital improvements and stand-alone outpatient spaces, as well as the planning of new hospital facilities.  Jim most recently served as the Director of Design for a midwest architectural firm.  He has worked to develop creative solutions for more than thirty healthcare facilities in Wisconsin, Michigan, Minnesota, Iowa and Nebraska.
Jim's prior project management and leadership roles have instilled a high standard for communication and a full team effort in delivering efficient, creative design solutions for healthcare.
Jim is a graduate of the University of Detroit with a Bachelor of Architecture degree.  He has been active with multiple healthcare design and architectural organizations in the midwest region.  He is a member of the American Institute of Architects and has attained LEED certification through the US Green Building Council.

The North Allegheny School District is moving forward with improvements to two of its elementary school buildings.  VEBH Architects has begun the design for the renovations and additions  to Franklin Elementary School and McKnight Elementary Schools.  The projects were defined in a study undertaken by VEBH in 2017.
← Older posts